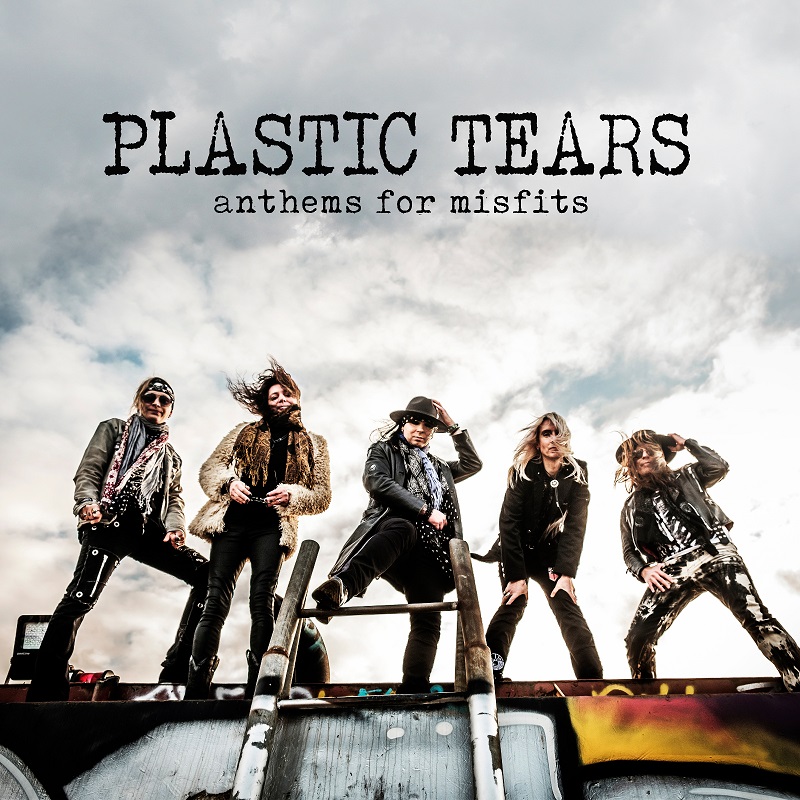 Plastic Tears – Anthems For Misfits is an album you need to hear! It's one of those albums that if you 'get it' then it will become completely addictive. Musically the rock band from Helsinki has a real sleazy glam punk edge, but it's not the puff and powder of ypur Poisons it's a real rough edged rock and roll that really takes a cue from those early Hanoi Rocks records I love so much and pumps in a dose of Johnny Thunders, Ramones and The Clash at points to make a rather melodic listen that offers some real variety.
If you can take the vocals – that have a rough-edged Mike Monroe feel and love the sort of riffs that Andy McCoy is so adept at, then like me you'll love this because it really feels like a record that is beautifully lost in time. This being their fourth record I also find myself scrambling to track down the back catalogue its that good.
This is damned good and the band themselves sees the new release as a natural continuation to their previous album, 'Angels With Attitude', but I must say just listening to this one the songs are even stronger and the melodies even catchier. And for me this is a record built on some great melodies. And we start of with a great one in 'Doomsday Girls' with its wonderful sing along punky Hanoi rocks meets Johnny Thunders vibe, before 'Riot Zone' brings even more influences flooding in – hitting like the New York Dolls like meets Ramones meets SLF with a funky breakdown and guitars that really remind me of Andy McCoy.
It's a great start to an album by a band that is inexcusably new to me and arguably gets even better with 'Clash In The Night opening with a strummed acoustic before it builds and builds to a punky groove and is smothered in melody; and ' Look Of Lies' backs it all up – similarly melodious as it recounts its tale of downfall.
'Hallucinations' comes at you from a new angle and changes it up and as it ambles gently with clicking bass and finger clicks before adding meat to the bone – it's a deliciously light song with a surreal edge, that rubs shoulders nicely with 'Divine' which has a great summer sounding melody and railing guitar that make you want to dance.
On a album that doesn't let up on melody 'Radar Eyes' comes as a great simply constructed melodic rocker with some lovely guitar before one of the very best 'Restless Outsider' adds a chunkier jangling rock sound with a huge chorus and hook; and 'Nobody Likes A Crybaby' slips in a nice anthemic punk bite that has you thinking of The Clash or Ramones. We close out with three great tracks that all show the variety of sounds on offer here – first 'Candlelight Hate Affair' throws up a  whispered moody, before 'Communication' comes at you out of the dark – the fieriest track here a great hard rocker. It's the final track though 'Imaginary Virgin Mary' that leaves you wondering how many more tricks these guys have up their sleeves.
One of my favourites of the year so far.
8.5 / 10
Band members: lead vocalist Miqu December | drummer Eco Xtasy | bassist Edu Kettunen | guitarists Andy Whitewine and Juha Pietiläinen
www.plastictears.com